July 2, 2021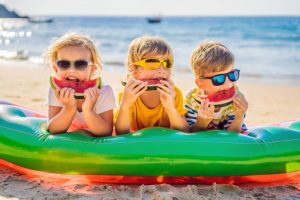 Everyone in your family is packed and ready to go. You've been looking forward to this road trip to the beach for months now. After the past year, you deserve a relaxing getaway! However, do you know how to prevent dental emergencies during your vacation? The last thing you need is to have the fun spoiled by a sudden hurting, broken, or knocked-out tooth. Here are four tips you can follow to avoid the need to schedule an unexpected visit with an emergency dentist in Raleigh this summer.
Visit Your Dentist Before You Depart
The best way to minimize the risk of dental emergencies during your vacation is to see your dentist for a checkup and cleaning before you leave. Minor cavities and tooth chips or cracks often don't cause discomfort in the early stages, so many people don't even notice a problem until they're in severe pain. If you visit your dentist before you depart, they can examine your mouth and promptly address any warning signs of potential emergencies. That way, you can enjoy peace of mind on your trip!
Pack Healthy Snacks
Traveling comes with opportunities to try all kinds of new foods, but be careful of anything too sugary or starchy – they could contribute to cavities or tooth infections. As a rule of thumb, foods that are rich in calcium and protein are great for your smile. Remember to pack plenty of mouth-healthy items, like fresh fruits, veggies, nuts, yogurt, and cheese.
Don't Store Your Toothbrush in a Protective Case
While it might seem easier and more logical to keep your toothbrush in the travel case you packed it in, this can actually lead to an overgrowth of bacteria. Since the bristles of your brush are damp after cleaning your teeth, the last place you should store it is a dark, damp location in which bacteria can thrive. By keeping your toothbrush in a carrying case or a bathroom drawer, you're putting your teeth and gums at risk of painful infection. Let your toothbrush air dry instead.
Enforce Pool Safety
If you're going to spend time at the pool this summer, be careful. Running on a wet pool deck can break or even knock out a tooth, as can colliding with the pool wall or even another swimmer. This is particularly true for kids who tend to get extremely excited at the pool. Make sure everyone in your family is aware of all of the safety guidelines posted near the pool to avoid injuries.
Preventing dental emergencies during summer vacation is easy if you just take a few precautions. By following these tips, you can make this summer one to remember!
About the Author
Dr. Philip A. Lisk is a general and emergency dentist in Raleigh with more than 20 years of experience. Since earning his dental doctorate at the University of North Carolina School of Dentistry, he has spent countless hours on continuing education, with a particular focus on disorders of the temporomandibular joint (TMJ). He and his team work hard to get emergency patients seen on the same day they call, and he offers a variety of services to repair smiles. To learn more about how to prevent dental emergencies, contact Dr. Lisk at (919) 870-6892.
Comments Off

on 4 Ways to Keep Your Smile Safe While on Vacation
No Comments
No comments yet.
RSS feed for comments on this post.
Sorry, the comment form is closed at this time.