March 14, 2017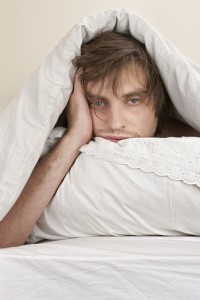 You grind your teeth when you sleep.  Your North Raleigh dentist would formally call your condition Bruxism. It took a while to figure this out because your symptoms weren't as prevalent as other patients. You didn't suffer from headaches, your partner never complained about awful grinding noises while they slept next to you, and your jaw wasn't ever too sore when you woke up. Your symptoms were a bit subtler from the abnormal amount of stress you're taking on at work, but still no less problematic to your health in the long run. Thankfully, Dr. Philip A. Lisk can provide valuable support and protection from your teeth grinding habit with a customized oral appliance known as a nightguard. Our goal is to get you back to enjoying strong, healthy teeth as soon as possible.
How do I know if I have bruxism?
There are many underlying factors that may be causing you to grind your teeth at night. Most conclusions point to psychological factors that trigger your central nervous system, although some may be because of physical issues. Some causes may include:
Emotions—anxiety, stress, anger, frustration, or tension.
Personality type—competitive, hyperactive, or aggressive.
Abnormal alignment of your jaws.
Other sleep issues like sleep apnea.
Body's response to pain like an earache.
Side effect of some medications like antidepressants.
Coping strategy for a focusing habit.
Result of a disorder like Huntington's or Parkinson's disease.
The signs of teeth grinding are subtle. If you experience any of these symptoms, please reach out to your office for assistance:
Damage to your teeth, restorations, or jaw.
Tension-caused headaches.
Soreness in your face and jaws.
Symptoms of TMJ disorder—clicking sound of jaws when you open and close your mouth.
How can Dr. Lisk help me?
Although there is no quick cure to bruxism, the condition can be managed. Thankfully, your helpful dentist is here to provide the professional support that you need for your teeth grinding habit. Our office can provide a custom nightguard for patients that are having interruptions while sleeping or jaw pain when they get up in the morning. This can provide the jaw the cushioning that it really needs before your teeth become damaged or eroded. Over time, patients find that they're symptoms are significantly reduced by a night guard and their teeth grinding episodes occur less often with less intensity.
A painful smile doesn't have to be the normal anymore. You can find the best solution for your irregular sleep issues today by contacting our North Raleigh office. We also welcome patients from Knightdale, Cary, Morrisville, Westerfield, and other surrounding areas!
Comments Off

on Wear and Tear From Bruxism? Your North Raleigh Dentist Can Help!
No Comments
No comments yet.
RSS feed for comments on this post.
Sorry, the comment form is closed at this time.