June 7, 2017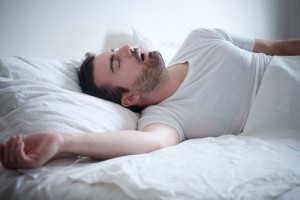 Do you snore excessively at night due to breathing difficulties? If so, you probably do not sleep very well either. If this situation sounds familiar, you could be suffering from a condition known as sleep apnea. The disorder results from the airways collapsing, causing numerous pauses in breathing various times throughout the night. While the obstruction makes it difficult to breathe, the interruptions also decreases your sleep quality. You will quickly notice various aspects of your life start to decline. However, you will also face serious and potentially deadly health complications as well. To breathe easier and to sleep better, you need to visit your North Raleigh dentist, Dr. Philip Lisk, for treatment.

Why Do I Need Sleep Apnea Treatment?
The most common form of sleep apnea is due to an obstruction that results when the airways collapse. When this occurs, there is a periodic lack of oxygen in the blood. This places extra strain on the cardiovascular system, increasing your risk for potentially deadly complications, like heart attack and stroke. The low oxygen levels will also cause irreversible cellular damage in the brain, which can permanently decrease your cognitive abilities.
While these complications take time to develop, you need to seek treatment right away to protect your health. Although the physical damages of the disorder will not be apparent right away, there are several areas in your life where you will quickly see change.
As you have difficulty breathing throughout the night, you will wake frequently or feel like you did not sleep well. This will cause you to suffer from daytime fatigue, which can cause you to become irritable and depressed. As time goes on, sleep deprivation will set in. Not only will you experience mood swings and difficulty functioning throughout the day, but you also develop decreased cognitive abilities, which significantly increases your risk for workplace and auto accidents.
By improving your ability to breathe, you will not only sleep better, but restore your quality of life and promote your health.
How Can My Dentist Help Me?
After undergoing a sleep study and determining that you have the condition, schedule an appointment to see your dentist for sleep apnea therapy in North Raleigh. Dr. Lisk offers two different types of treatment options. The most common form involves the use of a CPAP machine. A mask is worn over the mouth or nose to deliver a steady stream of air to prevent decreases in oxygen levels.
As an alternative, an oral appliance can be used for mild to moderate cases of the disorder. This is a custom-fit device that is like a mouthguard. It repositions the jaw forward to keep the airways open at night.
As your dentist in North Raleigh, Dr. Lisk will help find the best treatment that meets your needs and preferences. If you are ready to breathe easier and sleep better, it is time to contact our office to schedule your consultation. We will help you regain a restful night's sleep.
Comments Off

on Breathe Easier, Sleep Better with Your North Raleigh Dentist
No Comments
No comments yet.
RSS feed for comments on this post.
Sorry, the comment form is closed at this time.