May 31, 2020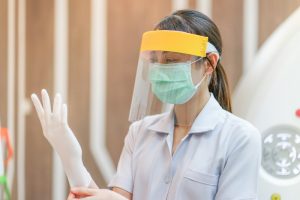 Whether it's from mindlessly snacking on sugary treats or anxiously chewing on your fingernails, there are a variety of reasons why you may be searching for a "dentist near me" after weeks in quarantine. Since the threat of getting sick from COVID-19 is still present, it's essential to continue to exercise caution and excellent hygiene. Thankfully, your dental team takes a variety of steps to keep you healthy before you even arrive for your appointment. Here's how your Raleigh dentist prepares to provide excellent, safe dental treatment during your visit in COVID-19.
1.) Designated Safety Champion
Every day, a team member is designated as Safety Champion and in charge of guiding the practice's Commitment to Safety. They ensure that all additional infection control measures are being followed correctly and are available to answer any questions from staff or patients.
2.) Daily Health Checks for Team Members
To ensure team members are ready and able to provide safe dental care, their day at the office starts with:
A no-touch temperature check.
A quick health questionnaire.
20-30 seconds of hand washing.
3.) Change Work Clothes at Work
COVID-19 germs can live on some surfaces for days at a time. To prevent spreading any outside particles, team members now only change into and out of their clean scrubs in the office.
4.) Utilizing More Personal Protective Equipment
Your Dental team's working wardrobes have also been fortified with additional personal protective equipment like:
N95 & ASTM level 3 masks.
Face shields.
Disposable, protective coats and hats.
5.) Personal Hygiene Standards
In order to make sure they can thoroughly clean their hands throughout the day, personal hygiene standards for team members have changed. They must maintain short fingernails and may not wear rings, bracelets, or watches.
6.) Changes to the Reception Area
When you arrive for your appointment, you'll notice that there have been changes to the reception area as well, like:
Fewer chairs to encourage social distancing.
No magazines, toys, or activities to limit frequently touched surfaces.
New clear, plastic barriers and HEPA air filters to hinder the spread of airborne particles.
7.) Deep Cleaning Every Night
Alongside regular cleanings throughout the day and between every patient, the entire practice is disinfected from top to bottom every night. This ensures its completely sanitized for the patients visiting the following day.
COVID-19 has changed many aspects of our "normal" lives, including what our dental appointments look like. However, it hasn't changed your dentist's commitment to your wellbeing! If you need to visit them for care during the pandemic, you can rest assured that your smile is in capable, clean, and prepared hands.
About the Author
Since 1997, Dr. Philip Lisk has been helping Raleigh, NC and the surrounding communities stay healthy by providing excellent oral health care. He and his team have always met the ambitious sanitation and infection control recommendations set forth by the American Dental Association and the Centers for Disease Control and Prevention. However, to ensure his patients and staff are as safe as possible in these uncertain times, he has established 27 additional precautions to his high standards of care. If you'd like to learn more about how he and his team prepare to keep you healthy during your dental treatment, feel free to contact him via his website or at (919) 870-6892.
Comments Off

on 7 Ways Your Dental Team Prepares for Your Visit in COVID-19
No Comments
No comments yet.
RSS feed for comments on this post.
Sorry, the comment form is closed at this time.