May 18, 2020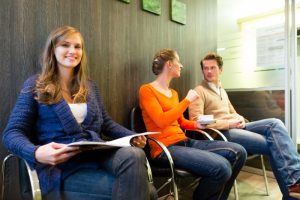 During the COVID-19 pandemic, did you develop a cavity from mindlessly snacking or chip your tooth from anxiously chewing on hard objects? There are a variety of reasons you may be searching for a "dentist near me" once quarantine orders begin to lift. However, it's essential to keep in mind that social distancing is still the best way to keep yourself safe from the coronavirus. Thankfully, your Raleigh dentist has implemented several measures to keep you healthy while you get the dental treatment you need. Here's how they're helping you practice social distancing during your appointment.
Sequenced Patient Scheduling
Your dental team is working hard to encourage social distancing before you even arrive to the office. When you call to make your appointment, you may notice that you are offered fewer options than normal. This is due to sequenced patient scheduling, which provides more time between visits. As a result, more distance is provided to patients arriving to and leaving their appointments.
Virtual Waiting Room
When you arrive, you won't enter the dental practice right away. Instead of waiting in the reception area with other patients, you can check-in from the comfort of your car. You will either be contacted by cellphone or a team member will come to your car and greet you when it's time for you to come inside. Then, you can bypass the reception area entirely and go directly to your treatment room.
Teledentistry Consultations & Follow-Ups
Your dentist may offer teledentistry to help minimize how many times you need to leave your house for dental care. These virtual visits are a cool, modern way to interact with your dental team without visiting the practice. This secure patient communication portal can be used to communicate with your dentist for a variety of consultations and follow-up appointments.
Changes to the Reception Area
When you do enter your dentist's practice, you may notice that the reception area looks a little different than it used to. Instead, it may have:
No magazines, toys, or activities: COVID-19 can live on some surfaces like paper and plastic for several hours or days, so frequently touched items have been temporarily removed.
Fewer chairs: To help remind patients to stay six feet apart from one another, there will be fewer chairs available. There will also be helpful signs and one-way traffic areas as well.
New clear plastic barriers: You've probably seen similar installations at your local grocery store and takeout restaurants. These barriers help block the movement of airborne particles and are disinfected regularly.
Throughout these unusual times, your Raleigh dentist and their team are working hard to provide the dental care you need while respecting social distancing recommendations. These new additions to their already ambitious infection control protocols will help keep you and your smile healthy when you come in for your visit.
About the Author
Dr. Philip Lisk has been helping the North Raleigh, NC area achieve and maintain excellent oral health since 1997. He and his experienced team have always been committed to your overall wellness and self-confidence alongside the appearance of your beautiful pearly whites. To continue to demonstrate this in these unusual times, he has implemented 27 additional steps to their high standards of sanitation and infection control. If you would like to learn more about what he is doing to ensure his patients, staff, and community are as safe as possible, feel free to contact him via his website or at (919) 870-6892.  
Comments Off

on How to Practice Social Distancing at Your Dental Appointment
No Comments
No comments yet.
RSS feed for comments on this post.
Sorry, the comment form is closed at this time.