June 14, 2018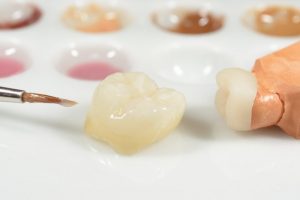 Choosing to replace teeth with implants is always the most effective and most cost-efficient solution to tooth loss. You're preventing bone loss from occurring, able to eat the foods you love, and smile with confidence when speaking to friends, family, and colleagues. However, the implant is only one part of the equation. Before you can do any of the above tasks on a daily basis, you'll need to determine which restoration is right for you.
While dental implants in North Raleigh will last you a long time, it's also important you take the right steps to care for them effectively. Here are the most common choices you'll consider.
Single Implant-Retained Crown
The most common option you'll find for replacing a single tooth is an implant-retained crown. These are typically made entirely from porcelain in order to best match the rest of your teeth. They're custom-made with the help of impression material and shaded to blend in with your smile seamlessly.
Implant-Retained Bridges
These are similar to dental crowns accept they use multiple restorations and implants to replace teeth. They are particularly ideal if you have multiple teeth you want to replace in a row. Typically, your dentist can replace up to three teeth by connecting them in between other implant-retained restorations, therefore bridging the gap in your smile.
Implant-Retained and Implant-Supported Dentures
For patients who want to replace an entire arch of teeth, implant-retained and supported dentures can effectively do so. While both of these options are removable, implant-retained overdentures are supported by both soft tissue and implants. Implant-supported dentures are only supported by implants, teeth, or both.
Caring for Your Restorations
The restoration you choose is largely dependent on how many teeth you intend to replace. If you choose a nonremovable option, your oral care will remain the same. However, unless you choose a fixed denture to replace teeth, you'll need to clean both your removable denture and your gums to make them last and keep your oral health in good condition.
When caring for implant-retained crowns and bridges, make sure to brush twice a day with a fluoridated toothpaste, floss daily, and visit your dentist every six months for routine cleanings and examinations. During these visits, your dentist will confirm the condition of your restoration and if they need replacement in the near future. Dentures should be kept moist when not in use and always cleaned with a denture cleanser and cool water, never oral care products or abrasive chemicals.
Replacing Restorations
Dental implants are designed to last for many years and can even last a lifetime when properly cared for. However, restorations can and likely will need replacing at some point.
Dental crowns and bridges can last between 10 and 15 years depending on at-home care, while dentures can vary. Dentures supported by soft tissue may need relining and replacing sooner than dentures strictly supported by teeth and implants. An average denture can last over 10 years, but a changing mouth shape can shorten that time to between 5 and 7 years.
Have more questions about dental implants in North Raleigh? Schedule an appointment with your dentist today to get started and revive your smile!
About the Author
Dr. Philip A. Lisk earned his DDS degree from the North Carolina School of Dentistry in Chapel Hill. He can show you the many possibilities that dental implants have to offer. To learn more about restorations or about your dentist in North Raleigh, contact him through his website.
Comments Off

on Restorations You Can Get for Dental Implants in North Raleigh
No Comments
No comments yet.
RSS feed for comments on this post.
Sorry, the comment form is closed at this time.