August 5, 2020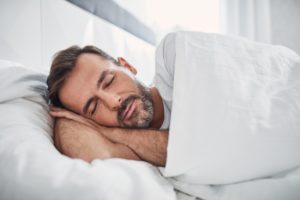 For months, your partner complained about your loud snoring and your tendency to wake up choking in the middle of the night. Finally, you saw a dentist and began sleep apnea therapy in North Raleigh. Ever since, you've been sleeping soundly through the night. However, now that you and your partner are expecting a baby, you're worried about your condition being passed on. Can someone be born with sleep apnea? Can they get it from their parents? Let's answer those questions in today's blog post.
Are You Born with Sleep Apnea?
In some cases, babies less than a year old might be diagnosed with a type of sleep apnea called infant sleep apnea. Symptoms include temporary breathing cessation during sleep, a slow heart rate, and a bluish tint to their mouth, lips, or skin. While the exact cause of infant sleep apnea is unknown, risk factors like premature birth and an underdeveloped brainstem can contribute to it.
The good news is that a majority of babies eventually outgrow infant sleep apnea. However, some do not and continue to display the symptoms of sleep apnea throughout their lifetime.
Is Sleep Apnea Hereditary?
Some research suggests that about 60% of risk factors for sleep apnea are environmental or lifestyle-related, while the other 40% are genetic. In other words, sleep apnea can be hereditary. Essentially, the more family members you have with sleep apnea, the more likely you are to develop it. Some of the hereditary factors that can affect your chances of getting sleep apnea include:
Obesity
Having relatives with sleep apnea
Small lower jaw
Larger than average tonsils
Allergies that cause nasal congestion
Just because you or your child are at a higher risk for developing sleep apnea doesn't mean you have to suffer through it. Many dentists are more than capable of treating the condition.
Treatment Options for Sleep Apnea
A common method of sleep apnea treatment is a continuous positive airway pressure (CPAP) machine. Using a mask worn over your face, this device basically forces air into your throat to keep it open during the night. However, many people can't tolerate this loud and bulky machine.
As an alternative treatment, some dentists can create a customized oral appliance, also known as a "snore guard." This small, comfortable device fits over your teeth and gently moves your lower jaw forward to prevent your oral tissues from collapsing. With this easy, removable appliance, many patients find relief from their apnea symptoms at long last.
Someone can be born with sleep apnea, or they can develop it as they get older. No matter when someone gets this condition, the important thing is that they seek treatment as soon as possible so that they can achieve restful sleep and a better quality of life.
About the Author
Dr. Philip A. Lisk is a dentist in North Raleigh whose career spans more than 20 years and counting. He has undergone more than 90 hours of continuing education courses in sleep apnea therapy, particularly with the use of oral appliances. As a member of the American Academy of Dental Sleep Medicine, he has a special passion for helping his patients sleep soundly again. To learn more about your risk for sleep apnea, you can reach Dr. Lisk on his website or by calling (919)-870-6892.
Comments Off

on Is Sleep Apnea Something You're Born With?
No Comments
No comments yet.
RSS feed for comments on this post.
Sorry, the comment form is closed at this time.