September 13, 2017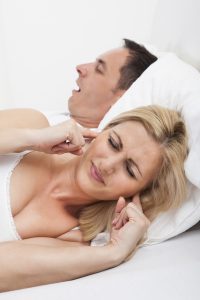 Does your spouse complain about your loud snoring every night? Maybe you are tired throughout the day because you just cannot seem to sleep soundly? If this sounds familiar, you could be among the 18 million Americans who suffer from a sleep disorder known as sleep apnea. This condition causes numerous pauses in breathing several times while sleeping due to an obstruction in the airway. Without proper treatment, it can have deadly consequences as your risk for health conditions, like cardiovascular disease, significantly increases. To restore your quality of life and to protect your health, you need sleep apnea therapy in North Raleigh.

Get the Treatment You Need
If you suspect that you have sleep apnea, you may not know where to turn for treatment. Often, it is believed that you visit your physician; however, now the solutions you need are often found at your dental office.
In the past, treatment involved the use of a CPAP machine, which delivers a steady stream of air through a mask that is worn at night. While it is effective, it has a low compliance rate because it can be uncomfortable.
As an alternative treatment, many are now turning to oral appliances, which reposition the jaw forward to keep the airways open. These custom-fit devices are only available from your dentist.
Sleep Soundly Today
If you are ready to breathe easier and sleep better, it is time to schedule a consultation. During the appointment, your symptoms, medical, and lifestyle history will be discussed. It will also include an examination of the oral cavity.
Next, you will be scheduled for a sleep study. You will wear monitoring equipment while you sleep, which provides information relating to your oxygen levels and your vitals. Using the data gathered from the testing, a diagnosis can be given.
With the right diagnosis, you will then head to your dentist for an effective treatment solution. After discussing the severity of the disorder, your personal preferences, and your lifestyle, a customized plan is put into action to help manage the condition.
Often, an oral appliance is recommended for those with mild to moderate sleep apnea. However, if your condition is more severe, a CPAP may be needed instead. In some cases, a combination of the two may be recommended to control the disorder.
Don't Wait! Get Treatment Today!
If you suspect that you have sleep apnea, do not wait for treatment. You need an effective solution to open your airways to restore your quality of life and to protect your health. Contact your dentist to schedule your sleep study today.
About Dr. Philip A. Lisk
Dr. Philip A. Lisk completed his Doctorate of Dental Surgery degree in 1997 from the University of North Carolina School of Dentistry. In addition to general dentistry, he offers many areas of specialized care, including the treatment of sleep apnea. If you are ready to protect your health, it is time to contact our office to schedule a consultation. Dr. Lisk will provide an effective solution to treat the sleep disorder.
Comments Off

on Benefit from Sleep Apnea Therapy in North Raleigh
No Comments
No comments yet.
RSS feed for comments on this post.
Sorry, the comment form is closed at this time.