August 15, 2019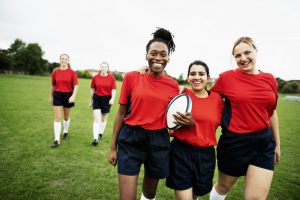 You never realize how much you appreciated something until it's gone. When you have a full set of teeth one day, and two that are knocked out the next, you can't reverse the clock and put in a custom-crafted sportsguard from your dentist in North Raleigh before you go out onto the field. It's too late for that. A quality-made and a perfectly-fitted mouthguard is one of the most important pieces of athletic gear to own. Instead of regretting damaging your smile, protect your teeth from the get-go.
What is a Custom Mouth Guard?
When you visit your dentist, they can craft an athletic mouthguard that is specially fitted to your teeth. They're made from FDA-approved, safe, and resilient material that covers all of the teeth on your arch. Because they're formed specifically to your mouth, they are more secure and comfortable compared to one-size-fits-all ones that you can purchase in the store. Not to mention, they're easy to clean!
Why is it Important to Protect Your Mouth While Playing Sports?
All athletes who participate in contact sports like soccer, basketball, and ice hockey should own and wear their mouthguard. When they don't, they're putting themselves at risk of experiencing severe oral trauma and damage.
Although custom dental sportsguards may seem like they're pricey to begin with, they're not even a fraction of the price of restorative work that you'll need to repair your damaged teeth. By investing in quality protection before it's too late, you can save yourself thousands of dollars in medical and dental bills.
How Can Custom Mouth Guards Protect You?
Wearing a mouth guard is important while playing any sport or participating in hobbies that involve contact. When you invest in quality protection, you won't have to worry about needing dental work down the road due to a sports-related accident. When your mouth comes into contact with anything, your oral tissues and teeth will have to bear that force if you're not wearing a mouthguard. That can cause fractures, knocked-out teeth, and damaged restorations. Some other emergencies that a sportsguard can protect you from include:
Jaw fractures
Soft tissue injuries
Cheek and tongue injuries
Lip lacerations
When you get a mouthguard from your dentist instead of at the store, you can count on the fact that it will have the ADA Seal of Acceptance. This means that they have proven that the materials it's made from are safe in your mouth and won't irritate your oral tissues. It also means that the guards are free of sharp or jagged edges that can cut your lips or mouth. And lastly, that the guard has passed durability tests related to its ability to withstand impact and resist tearing. Instead of taking a gamble on your smile by choosing the least costly option, choose the product that is proved to perform the best, so you can do the same!
About the Author
Dr. Philip Lisk has been serving his community of North Raleigh since 1997. He is passionate about providing his patients with preventive care so they can save time, money, and hassle in the long run. That's why he offers a variety of services such as sleep apnea treatment and custom mouth guards for patients who are athletes or who grind their teeth. For questions or to schedule an appointment, visit his website or call 919-870-6892.
Comments Off

on Custom Sportsguards: Better to Be Safe Than Sorry
No Comments
No comments yet.
RSS feed for comments on this post.
Sorry, the comment form is closed at this time.