August 8, 2017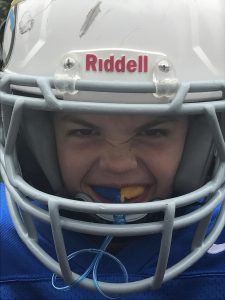 The leading cause of tooth loss for patients over the age of 30 is gum disease. What's the leading cause of tooth loss for patients under 30? Sports related injuries! That's why you should always wear a protective mouthguard during every match or practice. The best option for complete comfort during your athletic competition is to have a custom guard crafted during your preventive dentistry appointment with a trusted general dentist.

What Sports Require a Mouthguard?
People should wear a sportsguardguard during any athletic competition where their mouth may come in contact with other players, sports equipment, or hard surfaces. Most patients know that includes high contact sports like football or ruby, but some of the other athletic activities where mouthguards are recommended protective equipment may come as a surprise. The National Federation of State High School Associations requires mouthguards for football, field hockey, ice hockey, lacrosse, and for wrestlers with braces. Some of the other sports where mouthguards are recommended include:
Basketball
Volleyball
Martial Arts
Skiing
Soccer
Discus toss
Shot putt
Skateboarding
Surfing
Swimming
Can I Use a Store Bought Guard?
Absolutely. We do encourage our patients to at least consider a custom sportsguard because these appliances are typically more comfortable. That means patients are more likely to use them as directed. There are a variety of non-custom sportsguards available at your local sporting goods stores, including boil and bite and cut to fit options. Many athletes find these guards uncomfortable, and they do not wear them consistently. For this reason, a custom sportsguard may be the better option.
How are Custom Mouthguards Made?
A dentist can craft a custom mouthguard by capturing an impression of your bite. These can be either physical impressions captured in a putty-like material or digital impressions, depending on your dental care provider. The impressions are sent to a lab where high quality, durable materials are crafted to create a perfectly-fitted mouthguard.
Meet Dr. Lisk
At the Raleigh dental practice of Philip A. Lisk, DDS, we're dedicated to making patients feel welcome and right at home throughout their time in our office. In our years of experience, we've noticed that educated patients are happier with the results of their dental care. That's why we take time to share information about offered dental services on our website and blog as well as during our one-on-one consultation visits. If you have questions or want to find out more about custom crafted sportsguards, please contact our Raleigh dentistry team to schedule your appointment today.
Comments Off

on Protect Your Smile with Sportsguards
No Comments
No comments yet.
RSS feed for comments on this post.
Sorry, the comment form is closed at this time.