September 4, 2022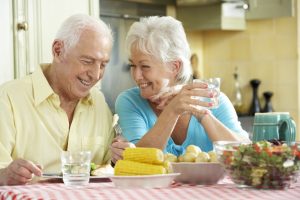 According to the American College of Prosthodontics, roughly 40 million US adults are missing all of their teeth—which is quite a staggering figure! But fortunately, there are several available tooth restoration solutions that can effectively replace lost teeth and restore a patient's ability to bite, chew, and talk. Dentures are one of these solutions; but as handy as these prosthetics are, many patients still encounter a bit of a learning curve when it comes to eating while wearing them. Here are five tips to help you out!
Tip #1. Start with Soft Foods
If you've just received dentures, you're probably excited to get back to eating all of your favorite meals. But you should stick to a mechanical soft diet at first. The name stems from food being mechanically altered by blending, chopping, grinding, or mashing so that it's easier to chew and swallow. Sticking with this type of diet will give yourself time to acclimate to your dentures, and it also lowers the chances of you hurting yourself or damaging your dentures. Stick with options like applesauce, mashed potatoes, scrambled eggs, pudding, smoothies, and more. Also avoid sticky foods, as they can easily dislodge your dentures, as well as particularly hard or crunchy foods.
Tip #2. Avoid Spicy Ingredients
Your gums will probably feel a little sensitive after you begin wearing dentures, so it's in your best interest to avoid things with spicy ingredients to avoid further irritation. This sensitivity shouldn't last for very long, but in the meantime, be mindful of anything and everything that could further upset your gums including hot sauce, red pepper flakes, and other spices.
Tip #3. Watch the Heat (Literally)
Your dentures have an insulating effect, meaning that your mouth won't be able to gauge temperatures quite as accurately as usual. This means you'll have to show extra caution when eating hot foods! Always carefully test the temperature of hot foods using your lips; these higher temperatures won't just burn the soft tissue inside of your mouth, but they can also affect the suction and stability of your dentures.
Tip #4. Bite and Chew Carefully
Similar to how some people are right- or left-handed, some people favor one side of their mouth when they're chewing. But if you've just received dentures, you should be careful not to do this—it can interfere with their stability. Instead, you should chew using both sides of your mouth so that there's an even distribution of pressure across your dentures. This helps to keep them stable and functional!
Tip #5. Be Patient
You won't be a master of eating with your dentures right off the bat—it'll take some getting used to! That said, temper your expectations and have patience; it might take several days or even weeks of practice to become fully accustomed to eating with your dentures. But if the progress feels slow, don't rush or attempt to exceed your pace.
Your dentures are meant to help you eat—so if you're struggling to adjust to them, don't worry. These tips, coupled with a little bit of practice, will help you become a master of eating with dentures in no time at all!
About the Author
Dr. Philip A. Lisk has proudly served patients and families in North Raleigh for over 20 years! Dr. Lisk received his DDS from the University of North Carolina School of Dentistry in Chapel Hill and is an active member of several professional organizations including the American Dental Association and the prestigious Academy of General Dentistry. If you have any questions about the article or would like to schedule a visit, feel free to contact Dr. Lisk online or by phone: (919) 870-6892.
Comments Off

on Five Tips for Getting Used to Eating with Dentures
No Comments
No comments yet.
RSS feed for comments on this post.
Sorry, the comment form is closed at this time.