December 12, 2019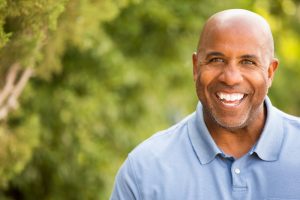 The first titanium dental implant was placed over 50 years ago, but it wouldn't be until the 1970's that more innovative approaches would be taken to performing the procedure. Still, fixed bridges and dentures would remain as the dominant ways of replacing missing teeth. Times have truly changed, though, as in the year 2019, more and more people are opting for dental implants. As you continue reading, a local dentist explains why dental implants in North Raleigh have become so popular and why they're your best choice for restoring your smile.
What is a Dental Implant?
A dental implant is a cylinder-shaped titanium post that is inserted into the jawbone to replace a missing tooth root. While historical records show that variations of the procedure have been around for at least 2,000 years, the first usage of titanium was in 1965. It would become the most utilized material by implant dentists because of its biocompatibility, which means that the existing bone mass naturally fuses with the material to create a strong and lasting foundation.
What Makes Dental Implants Different?
While other tooth replacement methods like fixed bridges and dentures are certainly effective ways to restore any missing functionality, they simply can't compete with the dental implant process. The primary reason is that dental implants completely replace a missing tooth, from the root to the crown. Thus, once they're placed, you don't have to worry about any slipping, shifting or an appliance totally dislodging from your mouth.
Over time, more and more people have decided that dental implant insertion is the best route to take.
The Benefits of Dental Implant Placement
Here are some of the reasons that dental implants have become quite popular:
Appearance – By dental implants being attached at the jawbone level like the natural tooth root, they create a realistic smile.
Longevity – Dental implant placement is a long-term investment. With proper care, it can last up to a lifetime.
High Success Rate – Across the board, dental implant placement as a 95% success rate.
Complete Functionality – Dental implants can restore up to 95% of your original chewing capacity.
Facial Bone Preservation – The bone degeneration that can come from prolonged tooth loss can be prevented with dental implant placement.
When you visit your local dentist, he or she can further explain what you stand to gain by choosing dental implant insertion.
It's Time for a Change
If you've been living with missing teeth and you desire to receive what's considered to be the "gold standard" for tooth replacement, then all you have to do is reach out to your dentist in North Raleigh to request an initial visit. While there, you'll undergo a thorough examination to ensure that you have enough viable bone and sufficient oral health to sustain a dental implant. Once you're cleared, you can get on the road to having your smile and lifestyle fully restored!
About the Author
Dr. Philip A. Lisk is a graduate of the University of North Carolina School of Dentistry, and he has been providing comprehensive care to patients in Raleigh and the surrounding areas for over 20 years. Dr. Lisk restores smiles by placing dental implants at his private practice, and he can be reached for more information through his website.
Comments Off

on Why Has Dental Implant Insertion Become So Popular?
No Comments
No comments yet.
RSS feed for comments on this post.
Sorry, the comment form is closed at this time.