February 4, 2023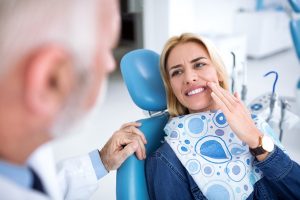 Dental implants are considered the gold standard when it comes to replacing missing teeth; these handy little posts can completely replicate lost pearly whites in terms of look, feel, and functionality and can last for virtually a lifetime. However, sometimes patients can experience increased and abnormal sensitivity around their implants. Keep reading to learn a little more about why this can happen and how you can alleviate your discomfort.
Potential Causes for Dental Implant Sensitivity
Dental implants are connected to your jawbone the same way that your natural teeth are. The titanium posts, which mimic the roots of your teeth, are fully biocompatible and able to fuse with the bone matter once they've been placed. This is necessary to preserve the integrity of your jawbone and facial shape, and it ensures that your restorations can last for ideally, a lifetime.
Due to the nature of this process, your implant sites can also experience potential sensitivity that stems from a variety of different things:
Gum infection – As gum disease progresses, it can affect the density of your jawbone and in turn, the stability of your implants. This can result in them feeling loose and painfully sensitive.
Crowding – Sometimes implants are simply placed too close to your other natural teeth, which can cause uncomfortable crowding and pressure.
Impaction – Food or other particles can sometimes become impacted between your implants and natural teeth, causing sensitivity.
Tissue or nerve damage – Throughout the dental implant process, there is a small possibility of gum tissue or nerve damage. While the tissue damage can heal, sometimes the nerve damage might be permanent, leading to sensitivity or loss of sensation.
Allergic reaction – In very rare cases, some patients experience an allergic reaction to the materials used in dental implants. This can cause a loss of your sense of taste, swollen gums, and hypersensitivity.
Tips for Alleviating Your Discomfort
Dental implant sensitivity often points towards implant failure, meaning that your best course of action is quickly contacting your dentist. They'll be able to examine your mouth and determine the cause of the sensitivity and an appropriate solution. In any case, there are several things you can do yourself to alleviate your discomfort in the time before your appointment, including:
Brush your teeth gently using a soft-bristled toothbrush. When you're flossing, use delicate care.
Rinse with an antibacterial mouthwash or saltwater solution to help alleviate the swelling.
Avoid hard or crunchy foods that might aggravate your mouth further, and steer clear of sugary and acidic foods and drinks if you can.
Don't smoke or use tobacco products, and refrain from other poor oral habits such as nail-biting or chewing on ice cubes.
It's also worth noting that if you're experiencing any symptoms such as inflamed or tender gums, receding gums, obvious pain or difficulty when chewing, or your implant feels loose, you might be dealing with potential implant failure. This means that contacting your dentist quickly, getting to the bottom of the issue, and restoring your dental implant is the only way to ensure that your smile isn't in any long-term danger!
About the Author
Dr. Philip A. Lisk has proudly served patients and families in the North Raleigh area for well over 20 years! His practice is thrilled to offer a wide range of preventive, cosmetic, and restorative options including dental implants. If you or a loved one is experiencing dental implant sensitivity, or if you have any other questions about the article, feel free to contact Dr. Lisk through his practice's website or by phone for further assistance: (919) 870-6892.
Comments Off

on What Can Cause Dental Implant Sensitivity?
No Comments
No comments yet.
RSS feed for comments on this post.
Sorry, the comment form is closed at this time.